VH_ZUM Mb Swh Mb Trip 12th 13th March 2009Hi Tony,
Finally managed to download those photos from the Iphone, so here is that report on the new
Weather system installed in VH_ZUM, that I promised you.
Below is the forecast I received for that particular flight;Area Briefing
1757 UTC 11/03/09 AIRSERVICES AUSTRALIA
AREA BRIEFING
Prepared for: INQUISITOR
Valid from 1757 UTC MAR 11, 2009 to 1757 UTC MAR 12, 2009
WEATHER INFORMATION
-------------------
AREA30 (30)
AREA QNH 19/22
AREA 30/32: E OF YHBK/YBNS/CAMUS 1021,
REST 1017
AREA QNH 16/19
AREA 30/32: SE OF ARRAN/YBNS/CAMUS 1021,
REST 1017
AMEND AREA FORECAST 111700 TO 120500 AREA 30/32.
OVERVIEW:
ISOLATED SHOWERS AND THUNDERSTORMS WITH LOW CLOUD PATCHES MOSTLY OVER
NORTHERN AND WESTERN PARTS, BECOMING MORE WIDESPREAD AND EXTENDING TO
REMAINING LAND BY 01Z. ISOLATED HAIL AND HEAVY FALLS WITH SOME
THUNDERSTORMS. ISOLATED SHOWERS ELSEWHERE. LOW CLOUD AREAS AND
ISOLATED FOGS S OF DIVIDE, MOSTLY GIPPSLAND AND SEA/COAST,
CONTRACTING TO SEA/COAST BY 00Z.
WIND:
2000 5000 7000 10000 14000 18500
010/20 350/20 340/15 340/15 PS03 330/20 MS05 320/25 MS14
CLOUD:
ISOL CB 4000/40000 AND ISOL TCU 4000/24000 AS PER TS IN OVERVIEW.
BKN ST 0800/2000 AS PER LOW CLOUD IN OVERVIEW.
SCT SC 2000/4000 SOUTHERN/EASTERN SEA.
SCT CU 4000/12000 MAINLY N AND W LAND, MORE GENERAL AFTER 00Z.
SCT AC/AS ABV 10000 TENDING LOCALLY BKN IN THE NORTH AND WEST.
WEATHER:
FG, TSRA, +TSRA, SHRA, HAIL.
VISIBILITY:
500M FG/+TSRA/HAIL, 2000M TSRA, 3000M SHRA.
FREEZING LEVEL:
12000.
ICING:
SEV IN CB/TCU AND MOD IN AC/AS AND CU TOPS ABV 12000FT.
TURBULENCE:
SEV IN CB/TCU. MOD IN CU/AC. MOD THERMALS BLW 7000FT OVER LAND AFTER
01Z.
AMD CRITICAL LOCALITIES:
KILMORE GAP: 9999 SHRA SCT ST 1500 SCT CU 4000
INTER 1117/1205 3000 SHRA BKN ST 1500 BKN CU 4000
PROB30 TEMPO 1119/1205 1000 TSRAGR BKN ST 1500 SCT CB
4500
FOR MORE DETAILS CALL [03] 9669 4850
BENDIGO (YBDG)
TAF AMD YBDG 111756Z 1117/1208
06006KT 9999 LIGHT SHOWERS OF RAIN SCT040 SCT100
FM112200 03012KT 9999 LIGHT SHOWERS OF RAIN SCT035 SCT100
INTER 1117/1208 3000 SHOWERS OF RAIN BKN015
PROB30 TEMPO 1118/1208 VRB25G50KT 1000 THUNDERSTORMS WITH RAIN AND
HAIL BKN010 SCT035CB
RMK
T 21 22 25 28 Q 1016 1018 1019 1017
METAR YBDG 111730Z AUTO 09006KT //// // ////// 21/10 Q1016
RMK RF00.0/000.0
I have also included the TAF for Bendigo as the flight track came close to the town.
MOORABBIN (YMMB)
TAF AMD YMMB 111623Z 1118/1212
02006KT 9999 LIGHT SHOWERS OF RAIN SCT050 SCT120
FM112200 01014KT 9999 LIGHT SHOWERS OF RAIN SCT030 SCT100
FM120600 24007KT 9999 LIGHT SHOWERS OF RAIN SCT035 SCT100
INTER 1118/1212 4000 SHOWERS OF RAIN BKN015
PROB30 INTER 1202/1210 VRB20G45KT 2000 THUNDERSTORMS WITH RAIN BKN012
SCT040CB
RMK
T 18 19 24 27 Q 1017 1018 1019 1017
Moorabbin departure was at 6:40am (1940Z) and the conditions were warm, so much so that I had the Air Conditioner on while taxying, a first for this time in the morning. I entered cloud at about 4000' and noted how dark grey the cloud patches looked, similar to the low cloud associated with storms. I had planned the trip at 10,000' and was soon cruising at this level, in IMC. Things were getting pretty cold now -3 Deg outside and the heater was on now instead of the air conditioner.

At this time I noticed a lot of airline diversions taking place around Melbourne as traffic was
avoiding weather in the "Canty & Eildon Wier" areas.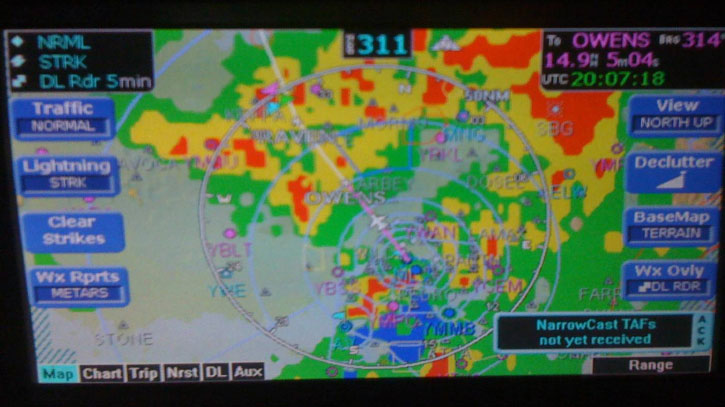 The in-flight conditions for the above picture were smooth in IMC.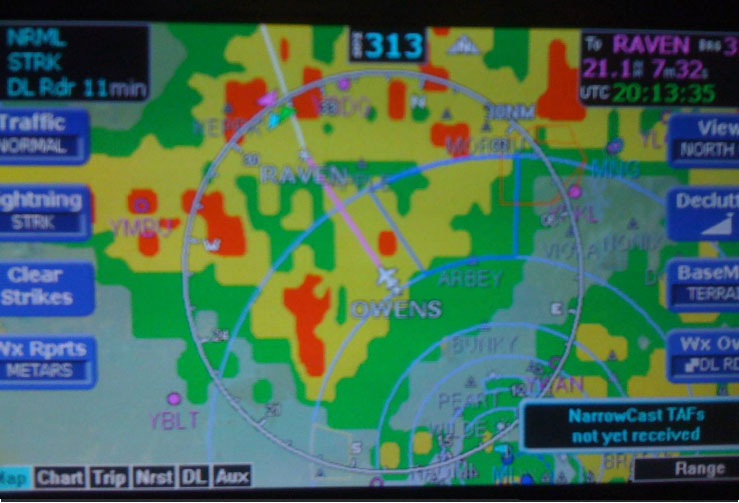 When I entered the yellow area I experienced heavy rain, this was interesting as the late
VH_OPC weather radar would result in the same conditions if I operated in the yellow areas
on that system.

As I passed a red area just north of "Owens" I noted some turbulence associated with it. This data was appearing to be accurate.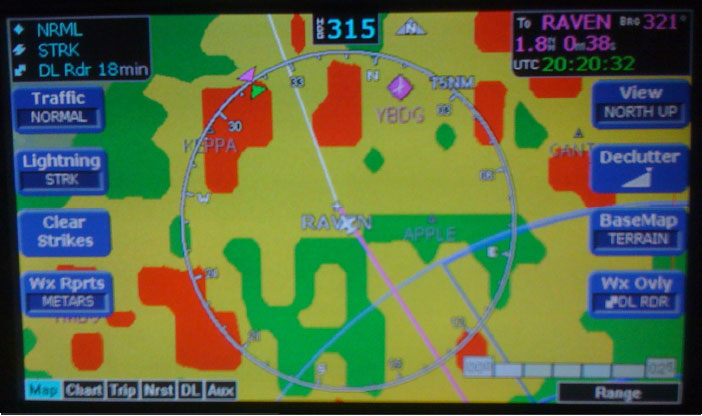 As I approached "Raven" it was obvious I was going to enter a band of red as indicated in the above picture. The in-flight conditions at "Raven" was still very heavy rain with light occasional turbulence.

As I entered the red area to the north of "Raven" the in-flight conditions deteriorated. It got
very much darker and soon the NDB was spinning and the VOR lost signal and started
scalloping then the two Garmin 430's squelches opened. It was obvious that I had entered a
cell and the turbulence was increasing. Soon the Autopilot was fighting the controls
attempting to maintain some resemblance to level flight so I disengaged it.

At this point the rain was very heavy and loud but noted it was not hail. Also I started
experiencing some strong updrafts so much so that I let the aircraft ride them rather than
attempt to maintain altitude resulting in a climb to 10300'. I attempted to contact Melbourne
control to let them know of my inability to maintain altitude but this was fruitless as I had no
VHF contact available now. A few minutes later conditions improved and things returned to
normal. As soon as I left the yellow area the heavy rain ceased.These following photos were taken at the same time as the above shot.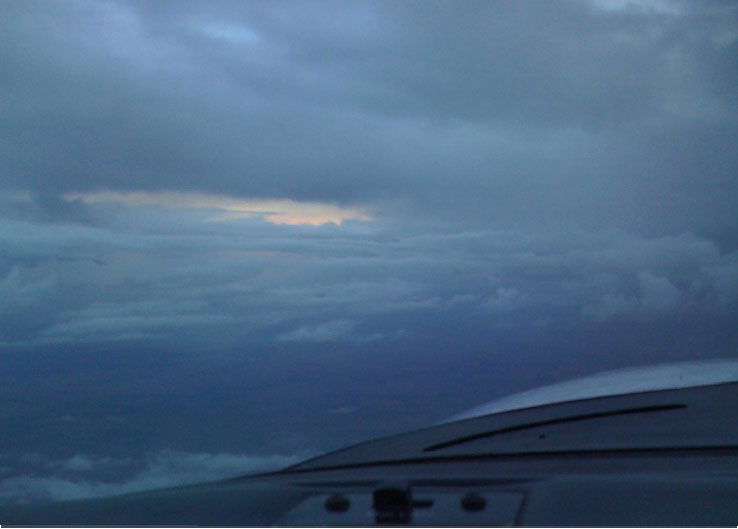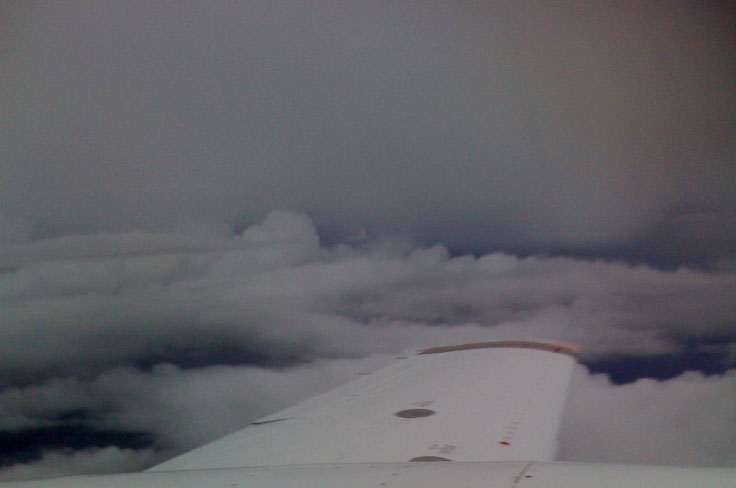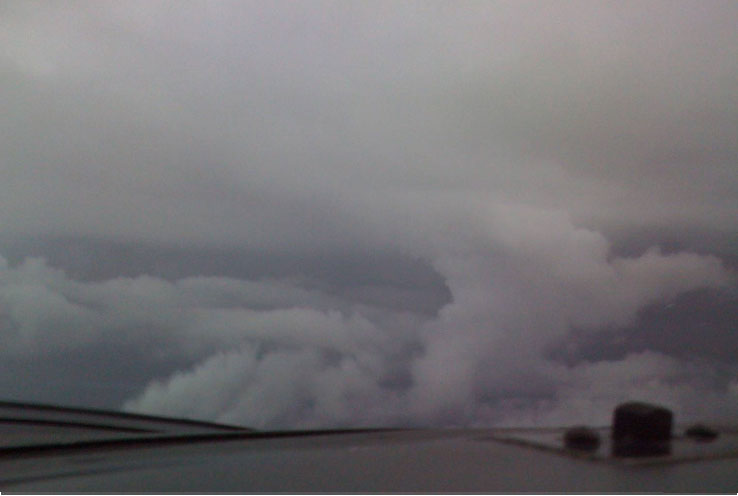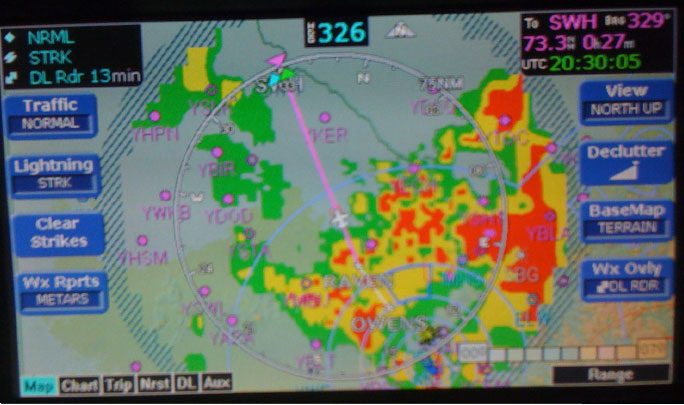 The remainder of the trip to Swh was uneventful. As can be seen above a trip to Albury would have been interesting.The next day on the return leg there was some storms to the east of Melbourne that had past
through the area. The storm scope showed some activity there.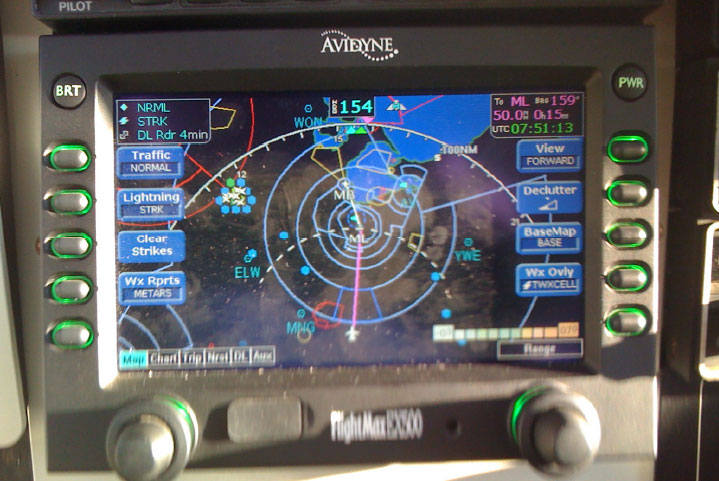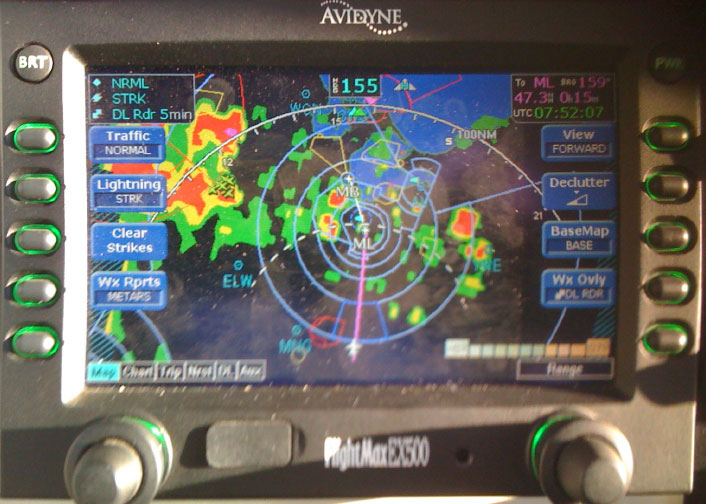 This shot shows the strikes superimposed. Also take note of the build up north of Moorabbin.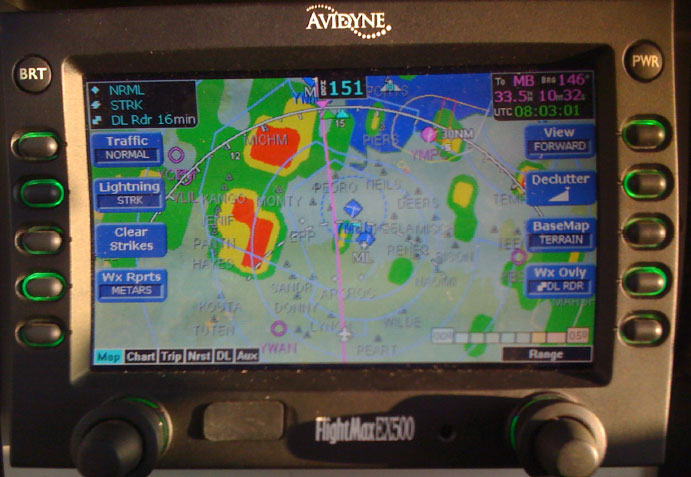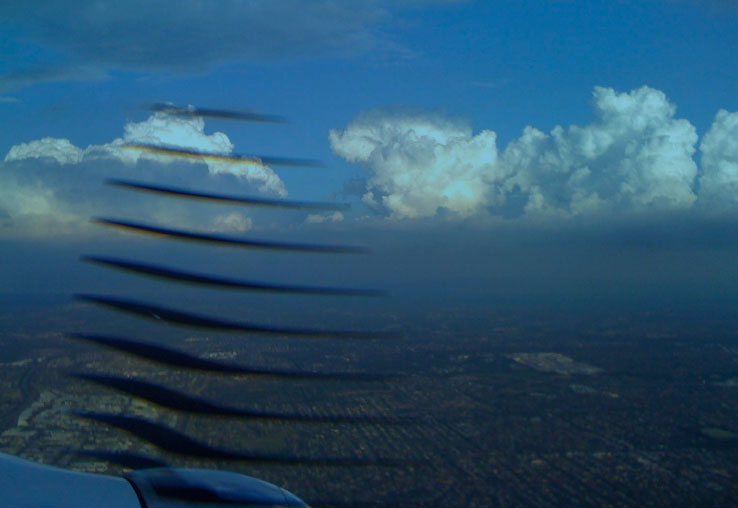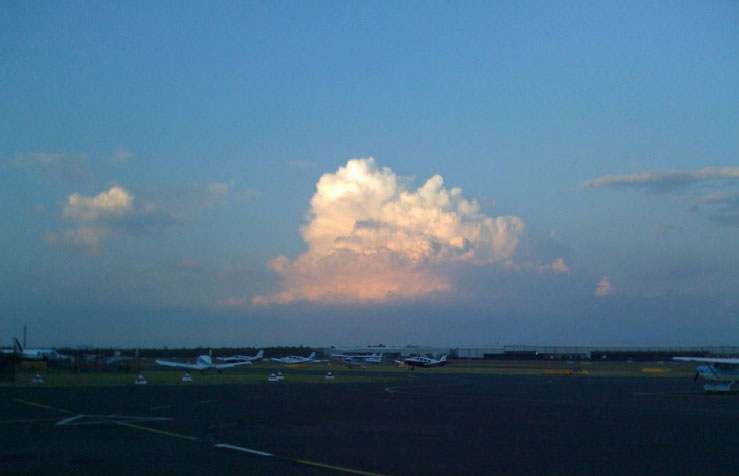 In comparison VH-OPC radar in action below: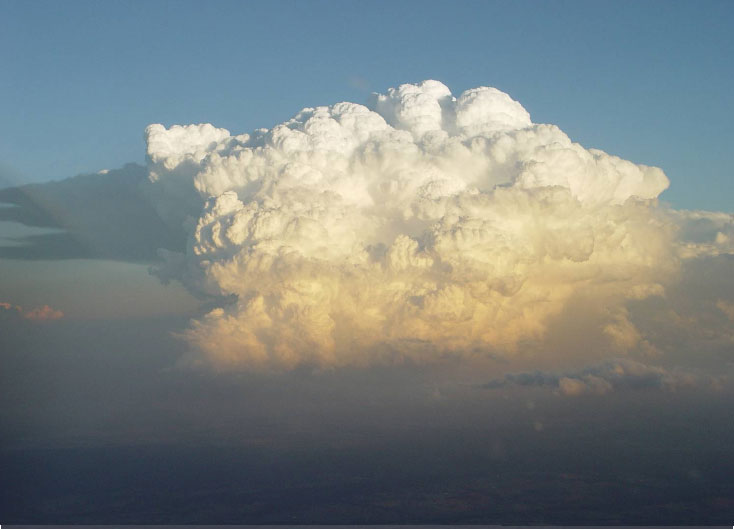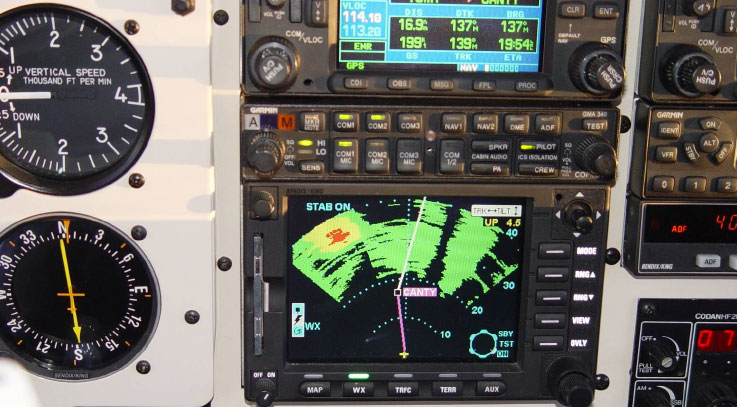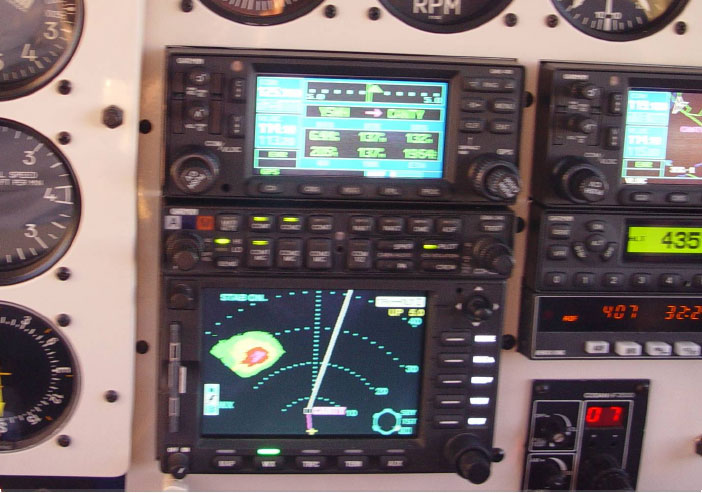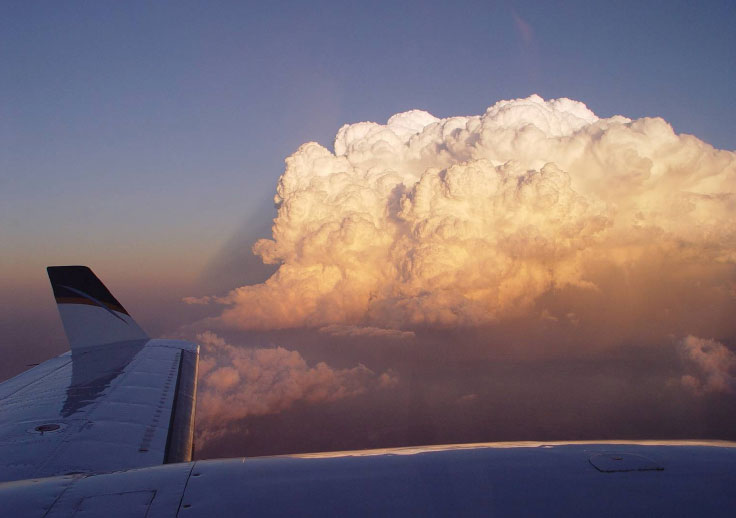 As you know a few months back I was not very keen on this system in comparison to on boardweather radar, but after this flight I am impressed. For me it was as good as VH_OPC's radar.

I believe if one avoids the red / purple areas then the resulting flight will be smooth.

Regards Tony Sazonov.